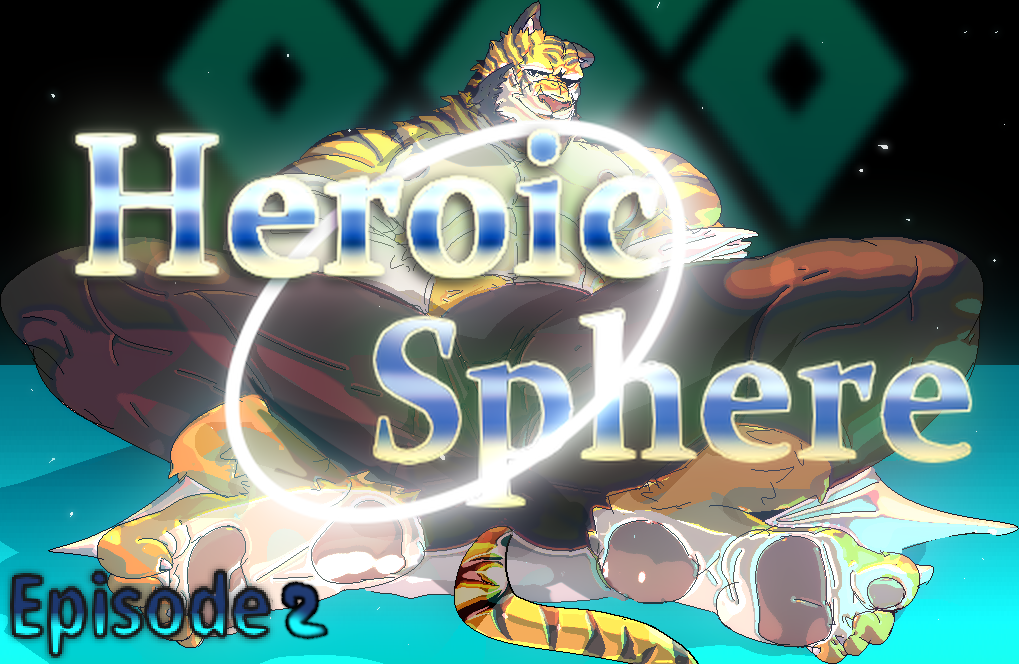 [Full]Heroicsphere-episode2: Hou-long[Bara/Furry]
(FULL VERS.)HEROIC SPHERE - EPISODE 2 : Hou-Long [BARA/FURRY]
------------------------------------------------------

Synopsis: It's been a week since doctor Hou-long is suspicious of Cyberwolf odd behavior. To uncover the truth, he decides to appoint Cyberwolf to a full body check-up ...
----------------------------------------------------------
Heroic Sphere is a suite of erotic visual novels[Eroge] that takes place in a futuristic cartoon world filled with hunky superhero beasts.[BARA/FURRY] You can play the entire game for free by using the short version of the game but you will just have 1 path available.
The game features 3 Bad endings and 1 canon ending. 20k + words, No censorship, sound effects and some portraits/live 2d animation variations, multiple paths and 30-45 minutes of gameplay to unlock everything. Be aware that the game features A Lot of diverse kinks the only limit being no underage, extreme vore, gore and scat content especially for the side events. The main story will mainly focus around mind alteration and corruption.
Each episode puts you in a different character and let you share his POV of the situation while advancing the main story (no same episode with different POV)
This game is done at 100% by me with the help of some royalty free assets, sound and music. Unfortunately, I'm not an English native speaker so expect some painful grammatical errors sometime. If you have any comments, typo corrections or future updates you'll want in the game, please, come to the Discord server.
Or contact me on my twitter: https://twitter.com/satyroom
Tag: Superhero, corruption, Bara, Gay, Erogame, Romance, Mind control, hypnosis, visual novel, Erotic Game, Visual Novel.
More information
Purchase
In order to download this game you must purchase it at or above the minimum price of $2 USD. You will get access to the following files:
HeroicSphere-Epi2[Win1.5].zip
395 MB
HeroicSphereEpi2[Mac1.5].zip
395 MB
Comments
Log in with itch.io to leave a comment.
Eu espero que um dia que o criador do jogo adicione a versão mobile
Could you maybe "bake" a Linux Version from your Creator Platform, too?
- I have just tried to start the Windows Versions under WINE (Windows Emulator) on Linux, but I only get a black screen, sound and the changing Mouse Cursor, but no image/User Interface at all.

If anyone (else) knows a fix for this, I'd highly appreciate it.
But I thought, that most Ga(y)me Platforms support Linux-Packs nowadays, too, don't they? *prays*
Sadly I would need to make an html5 version of the game and I can't. Tyrano builder can't handle my gifs and it makes the game unstable for html5 that's why I stopped the production of heroic sphere for a moment so that I can do the next game on RPG Maker MV. I retried today, and It doesn't work.

Do you want a refund or free key for the next game coming soon?



Oh, I'll first try it on my old MacBook (MacOS 10.11.x) and see if it works there - if it doesn't work there, I'll just consider it a nice little donation for your hard work still. I know it's always a learning process, so I don't mind the 5.x €

But since I'm following you anyway, I try to give some feedback on Demos to help you find bugs or problems.

I'm almost certain, given some time, I might even find a WINE-configuration on Linux, that will make it work. - Just didn't have the time and "muse"/inspiration to fiddle with it last night.

So, it's alright from my point of view, but if you feel better with it, I'm not denying a gift on my birthday ;-)

I'll just send you a key for the next game later this month then. It should be compatible with Linux. Thx for the support <3
Aw, thank you so much, that's really awesome! <3

P.S.: I tried it out on my old MacBook and there the two older Ga(y)mes worked totally fine and I could explore the stories. <3

Hi there! I really enjoyed the first episode and I bought the second two days ago on the 20th of December (the file was titled [Full]Heroicsphere-episode2[Bara/Furry]). Now I see that there is an updated version with the name of HeroicSphere-Epi2[Win1.5]. What should I do now to get the update too or it's the same version just the names are different? I bought the game here, not in a bundle since I already had the first one, I'd be great if you could explain it to me what should I do. Thank you very much in advance!
I played both episodes and still the first is my favourite because of the sub's side, but it's great that you think of everybody with different preferences. Dominant paths usually strange and unconfortable for me, but I really like your writing style, so I enjoyed that too! :) I got only one problem with the first one: sometimes the text disappears too fast and I can't read it properly.

Also: thank you very much again for sharing your game with us, keep up the awesome work!

Just download the new version and extract it at the same place the old version was if you want to keep your save. You saves might bug with the new version so it just starting anew might be your best choice.

For the text skipping, It should be less frequent in episode 2 than episode 1. Unfortunately I don't think I will patch episode 1 for the text skipping as it is too much work for very little gain.
You can move your mouse wheel up to have access to the backlog if you miss text tho!


Thanks for supporting the game! You can join the discord server too if you want more info and stuffs ;).
Thank you very much for the fast reply! I wasn't clear with my question: do I need to buy the game again if I want to updated version too? I bought the second episode only without a bundle, and I'm angry at myself why didn't I waited more, but when I saw that there is a new episode I bought it right now. I plan to do it in the future too, I really want to support this great game, and as I said your writing is awesome :)
Episode 2 was okay, it didn't skipped, just the first one. Thank you for recommending the backlog too!
Thank you very much again, if I'll be finished with all the holiday stuff I'll visit you there, I hope I won't bother you :)

All update are free, you just redownload it. If you can't, go back to your library on itch.io and look for episode 2 in it.
AHHHH i want the full version so badly but i have no way of buying it but thanks for at leased releasing short free versions. Your work is really good.
How many episodes are expected?
To be frank, until the story is done.
The next episodes in production are :
Episode 3: Valliant
Episode 4: Hyperion